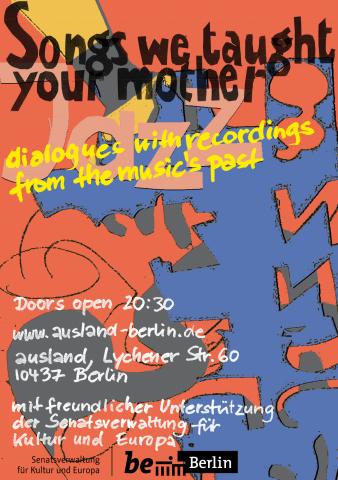 Songs We Taught Your Mother - Dialogues with Recordings From The Music's Past
3 concert nights and a salon
Solo artists, bands and duos conceptualize a performative work in dialogue with a recording by one or more female jazz- and blues composers from 1920 until today. These works do not only consider the recordings' sound and musical character, but also the circumstances under which they were made: The desire and necessity to play, obstacles in the way for black women in the music business, political and quotidian events which the composers thematized in their music themselves, etc. Since the early days of jazz and blues women have been part of the movement: Not only as singers, but as instrumentalists, band leaders, composers and arrangers. Often as ghost writers, often paid under the table. Never having been part of the jazz canon or already forgotten. Songs We Taught Your Mother focuses on these women, readdressing the question how gender and origin still influence music production here and now.
These questions will also be at the center of the Songs We Taught Your Mother Salon on May 20.
The artists invited represent a wide range of stylistic influences: Hip hop and electro-acoustic music, improvised music, traditional Mbira music from Zimbabwe, noise, field recordings and DJ'ing. We look forward to performances by Veronica Mota, Stella Chiweshe & Mary Ocher feat. The Government, Moor Mother, rRoxymore, RENU, Isabel Lewis and Nonku Phiri entering into dialogue with recordings by amongst others Lovie Austin, Lil Hardin Armstrong, Alberta Hunter, Mary Lou Williams, Melba Liston, Jeanne Lee, Ma Rainey and Carla Bley.
The feminist radio collective SissiFM accompanies the series with background, music and critical questions broadcast on rebootFM.
Songs We Taught Your Mother refers to a record by Alberta Hunter, Lucille Hegamin und Veronica Spivey from 1987.
Songs We Taught Your Mother is the 2nd edition of the series (Re)Shaping Jazz To Come. Dialogues with Recordings From The Music's Past which took place in ausland during the fall of 2017.
------------------------------------------------------------------
Eine Produktion von ausland / projekt archiv e. V.
Künstlerische Leitung: Gretchen Blegen, Christina Ertl-Shirley und Ruth Waldeyer
Produktion: Anne-Laure Sahy
Produktionsassistenz: Conrad Noack
Öffentlichkeitsarbeit: ausland / Christina Ertl-Shirley
Radioprogramm: SissiFM
Ton: Baptiste Moulin
Assistenz Ton: Hila Lahav
Licht: Lena Gaetjens / Florian Bach
Technische Leitung: Ruth Waldeyer
Grafik: Christine Kriegerowski
Redaktion: Tobias Herold
Redaktion engl.: Mertzlingo
Fotos: Cristina Marx/Photomusix