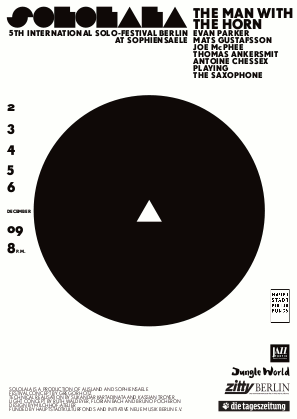 sololala 2009
SOLOLALA 2009
5. Internationales Solo-Festival Berlin
The Empress of Sounds and The Man with the Horn
"Ripples in a stream, wind through grass, sunlight reflecting off water tell us something about themselves without intending to do so. All natural sounds are unintentional, but nevertheless press out (express) from themselves messages with no meaning other than what they are or how they are produced." (Alvin Lucier)
"The past couple of years have seen many changes reshape world creativity. Of those changes, certainly the dynamic acceleration of solo activity can be viewed as a major factor responsible for the expanded reality of present day creative music." (Anthony Braxton, 1979)
Solo heißt allein.
Solo ist ein Konzentrat.
No Solo, no Cry!
Nach einer 12-jährigen Pause wurde SOLOLALA im Herbst 2008 im ausland neu aufgelegt. Die 08er Ausgabe war eine Mini-Version des Festivals und präsentierte an 2 Abenden Solo-Musik von Jason Kahn, Lol Coxhill, John Butcher, MarzipanMarzipan und Jasmina Maschina.
Das ursprüngliche Festival fand 1995 und 1996 insgesamt dreimal statt (im Hochzeitsraum, Strelitzer Str. 60, Berlin-Mitte) - neben mir waren Jeremy Clarke, Uli Ertl und Stefan Pente an der Organisation dieses Low-Budget-Festivals beteiligt. Während einer Woche präsentierten wir jeden Abend drei SolistInnen aus den unterschiedlichsten Bereichen: Musik, Tanz, Film, Theater, Performance, Comedy, ....
Es waren bewegte Zeiten damals, und viele der KünstlerInnen, die auf dem SOLOLALA '95/'96 auftraten, standen am Anfang ihrer aufregenden Laufbahnen. Die Abende im Hochzeitsraum sind mir in bester Erinnerung geblieben, weshalb ich mir schon länger wünschte, das SOLOLALA wieder zu etablieren.
2009 wurde dies dank einer öffentlichen Förderung endlich möglich. Das Programm des 09er Festivals ist zum einen Fortsetzung und Abschluss der Saxophon-Geschichte (mit der ich sehr vertraut bin) und zum anderen ein Aufbruch in neue Gefilde, die für mich als Kurator noch recht unbekannt sind. SOLOLALA 2009 ist eine Hommage an das Saxophon, eins der wunderbarsten akustischen Instrumente, die jemals gebaut wurden, und eine Hommage an Alvin Lucier, einem extrem faszinierenden Komponisten Neuer Musik, dessen Klang- und Musikverständnis mich stark beeindrucken.
In ungewöhnlichem Kontext stehen im großen Festsaal der Sophiensaele Berlin an 5 Abenden 5 Werke von Alvin Lucier und 5 Auftritte zum Teil legendärer Saxophonisten auf dem Programm.
"The Empress of Sounds" begegnet "The Man with the Horn".
Gregor Hotz, Oktober 2009
Das genaue Programm finden Sie weiter unten, für jeden Tag gibt es einen weiterführenden Link.
Ausführliche Infos zu den beteiligten KünstlerInnenn sind an dem Tag, an dem sie auftreten, unterhalb des Programmtextes verlinkt