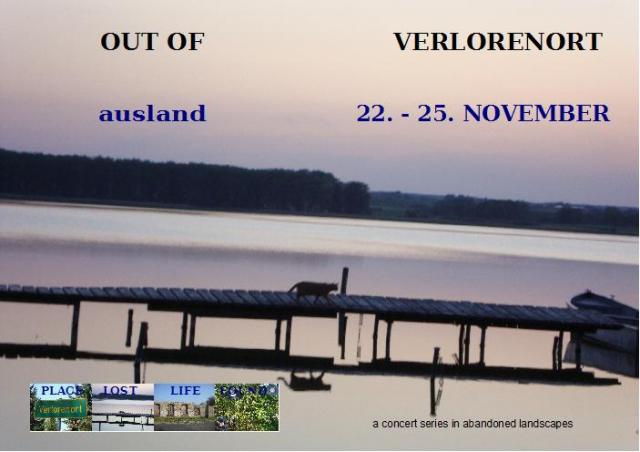 Out Of Verlorenort
OUT OF VERLORENORT
22. BIS 25. NOVEMBER 2012
AUSLAND BERLIN
Vier Konzerte verortet im Nirgendwo im November 2012
Vier Konzerte widmen sich Fragen des 'Verlorenseins'. Sich gesellschaftlich wie persönlich 'verloren' zu fühlen, scheint in Zeiten der unaufhörlich vermeldeten 'Krise' immer mehr Menschen zu treffen. Welche Rolle kann Musik bei der Aufarbeitung und Bewältigung solcher 'Verlorenheiten spielen, bzw. wie spiegeln sich solche Prozesse in der experimentellen aber auch in der populären Musik? Das Programm der Konzertreihe greift diese Fragen in unterschiedlicher Weise auf, und macht sich im audiovisuellen Rahmen von Ralf Hofmann und Andrea Ermke auf die Suche nach Wegen 'Out Of Verlorenort'.
Genaue Informationen gibt es beim Klick auf die Tage oder auf die Links am Ende.
English information available on the linked pages.
Kurzübersicht Out Of Verlorenort:
Donnerstag 22. November / 19 Uhr
Eröffnung mit Einführung von *Ralf Hofmann*
& Eröffnungskonzert mit an der Reihe beteiligten Musikerinnen
Mugglesounds/
Anaïs Tuerlinckx/
Apocryphal Productions
Konzerte und Performances
Samstag 24. November / 20:30 Uhr
Chakana And The Violets & Andrea Ermke & Die Laser Titten
*Andrea Ermke (live)*
&
Premiere:
*Chaka Na & The Violets (live)*
After Show & Out Of Verlorenort - Series Party
mit *Die Laser Titten*
Installation letztmalig geöffnet & Abschluss-Konzert!
Für das gesamte Programm mit allen Künstlern bitte auf die Einzel Seiten klicken.
Die Konzert-Reihe 'Out Of Verlorenort' wird gefördert durch die
Senatskanzlei für kulturelle Angelegenheiten!