Friday, 13 May, 2022 - 20:00
PIA22 #2: THE SHIFT + PIEUVRE + MATCHING OUTFITS
We are happy that 2022 will see more events in our ongoing series Pop im Ausland. With support from musicboard Berlin we are able to invite an exciting and diverse line-up of artists who work in the blurry fields between pop and experimentation. For our second out of four evenings we are proud to present:
THE SHIFT(experimental pop/ Berlin)
MATCHING OUTFITS (twee pop/ Berlin)
PIEUVRE (post-punk/ Berlin)

Doors 20:00, Concert 21:00
Pre-sale is sold out but there will be addictional tickets at the door (€9-€11 sliding scale).
-------------------------------------------------
Matching Outfits is a Berlin-based trio helmed by singer-songwriter Linnea Mårtensson. Her melodic keyboard-led songs are augmented by bass, drums, guitar and sun-streaked harmonies, courtesy of bandmates Rachel Glassberg and Leah Corper. Bright twee pop and wistful ballads backdrop Mårtensson's softly-sung Nordic-accented vocals.
The Shift is a collaboration between Phoebe Killdeer & Ole Wulfers. Their use of sonic space dips you momentarily in a parallel dream filled with familiarity and warmth. Storytelling through experimental gestures and abstract instrumentation, brushing diverse genres without the need to categorize. Its a subtle image reflecting a sound of humanity. Some songs are heard, others perceived, others are like images or moments frozen in time. they seem to sketch and carve away at the sonic vibrations all around. The end result comes across more as a film soundtrack than an album.

Pieuvre is a new sensation from the bubbly Berlin underground, born magically by coincidences and featuring members of indie darlings Brabrabra, the Shna, and King Kuiper. If you missed their sensational debut show (at ausland!) last December now is your chance to catch up. Expect catchy post-punk hymns, raw guitars and an irresistable rhythm section.

supported by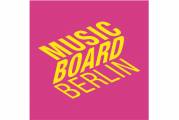 As part of the festival PIA - pop im ausland