Saturday, 19 March, 2022 - 20:00
PIA22 #1: DECHA + TERESA RIEMANN + MARY C
We are happy that 2022 will see more events in our ongoing series Pop im Ausland. With support from musicboard Berlin we are able to invite an exciting and diverse line-up of artists who work in the blurry fields between pop and experimentation. For our first out of four evenings we are proud to present:
DECHA (dark electronics / Düsseldorf)
TERESA RIEMANN(solo drums + voice / Berlin)
MARY C(DJ-Set / Prague)

Doors 19:00, Concert 20:00
Pre-sale tickets here. There will also be additional tickets at the door.
This is a 2G+ event, please come tested. Thank you!

-------------------------------------------------
Decha is Viktoria Wehrmeister, and Viktoria Wehrmeister is Decha.
Viktoria is by now known in some circles as the frontman of the duo Toresch (alongside
Tolouse Low Trax & Jan Wagner). Under the name Toresch they have released 2 critically
acclaimed records on Vladimir Ivkovic's label Offen which brought forward the fusion
between TLT's abstract raw, industrial yet sexy beats and Viktoria's dadaist vocals.
In Her debut solo LP under the alias of Decha, Viktoria presents 9 songs, more personal,
and more abstract (yet always playful) approach to her art then heard on the Toresch
records. Hielo Boca is a record that is both enchanting in its minimalism and yet still
manages to pour out Viktoria's exploding creativity, each song in its own way.
(Text: Malka Tuti)
Teresa Riemann is a multiinstrumentalist that started to learn the piano when she was 6 years old. She abandonned classical education at age 16 and started to explore different instruments on her own: guitar, cello and - since 2012 - the drums. Since than she has developped her very unique style of convulsive percussion meanwhile being fully conscient about every tone she plays and the precise moment it is going to break into being. She accompagnies her drumming with the eclectic use of her fragmented voice, spontaneously reciting frazzles of the living memory of humankind.
part from her solo projects on drums and piano, she plays in the groups Inutile Témoin and Naked in the Zoo.
Marie Ctverackova aka Mary C is a musician, DJ, curator and music journalist.
She co-founded the Synth Library Prague, space for sharing, discussing, experimenting with sound and electronic music, trying to create more equal and welcoming environment, exploring the potential of music and music community to trigger wider social change.
supported by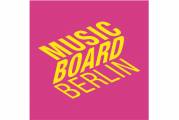 As part of the festival PIA - pop im ausland