Friday, 19 November, 2021 - 20:30
Natascha Gangl & RDEČA RAKETA + Tintin Patrone
Tintin Patrone
Maja Osojnik
Natascha Gangl
Matija Schellander

NATASCHA GANGL & RDEČA RAKETA aka Maja Osojnik und Matija Schellander // TINTIN PATRONE
Die Revanche der Schlangenfrau. Ein Klangcomic frei nach Unica Zürn
Natascha Gangl – Stimme
Maja Osojnik – Stimme, Elektronik
Matija Schellander – Stimme, modulare Synthesizer, Laptop
Billy Roisz (nicht live) – Video
+++ English below +++
Die Autorin Natascha Gangl und das Elektroakustik Duo RDEČA RAKETA, aka Maja Osojnik und Matija Schellander, entwickeln und performen akustische Kunstwerke, für die sie das Genre "Klangcomic" erfunden haben: Wie im Comic Wort und Bild ineinander aufgehen, sind es hier das gesprochene Wort und der Klang. Anti-Heldinnen sind hier die Protagonistinnen, ihre surrealen bis psychedelischen Reisen führen durch ein dichtes Gewebe, gesponnen aus kompakten Klangbildern. Eklektisch kombinieren die Künstlerinnen literarische und musikalische Stilrichtungen und machen sie sich in der feinmaschigen Komposition zu eigen. Der Klangcomic erscheint sowohl als sendefertiges Hörstück für Radios, als Tonträger in uniquer Gestaltung und als beständig wachsende Live-Performance.
Die Revanche der Schlangenfrauist Unica Zürn (1916–1970) gewidmet, einer Ikone des Surrealismus. Die Künstler*innen kreieren als Femmage ein Klangkunstwerk, das Zürns einzigartigen künstlerischen Kosmos in einer fiktiven Biographie erfahrbar macht. Widerständen und Tragödien trotzend lies Zürn ihr höchst komplexes und konsequentes Werk entstehen. Die Reduktion der Künstlerin auf ihre Biographie, ihr Musen-Dasein und das Stigma der psychischen Erkrankung, werden hier ad absurdum geführt und damit aufgelöst, die Künstlerin verwandelt sich in diesem Klangcomic zur Superheldin: der Schlangenfrau. Das Entstehen und Vergehen von Anagrammen wird zum akustischen Erlebnis, Worte werden zu Buchstaben, Buchstaben zu Rhythmus, Märchenhaftes wird essayistisch in Klangwelten zwischen Madrigal und Techno – eine Trip ins Herz des Surrealismus.

Tintin Patrone
Tintin Patrone – Posaune, Elektronik
Tintin Patrone erzeugt anhaltende, verzerrte oder unheimliche Klänge, indem sie ihr Instrument durch eine Reihe von digitalen Filtern mit niedriger Latenz, modifizierten und/oder minimal oszillierenden Filtern leitet. Ihre Spielmuster ermöglichen die Erzeugung großer, robuster Drones, die nachgeahmt, verzerrt oder neu kombiniert werden, um längere und vielfältigere Texturen und Strukturen zu bilden.
Tickets: 9 €
Tickets im Online-Vorverkauf oder an der Abendkasse erhältlich.
Seit dem 15.11.2021 gelten in Berlin die 2G Regeln bei Veranstaltungen. In unserem Raum gilt zusätzlich zu 2G auch die Maskenpflicht. Da die Corona-Infektonszahlen zur Zeit sehr hoch sind, möchten wir bitten, vor dem Besuch unserer Veranstaltungen einen Coronatest in einem Testzentrum durchzuführen.
Gefördert von der Senatsverwaltung für Kultur und Europa
Medienpartner: Digital in Berlin
Einlass: 20:30 Uhr
Konzertbeginn: 21:00 Uhr
+++ English +++
Die Revanche der Schlangenfrau ("The revenge of the snake woman"). A sound comic freely adapted from Unica Zürn
Natascha Gangl – voice
Maja Osojnik – voice, electronics
Matija Schellander – voice, modular synthesizer, laptop
Billy Roisz (not live) – video
The author Natascha Gangl and the electroacoustic duo RDEČA RAKETA, aka the composers, Maja Osojnik and Matija Schellander, develop and perform acoustic works of art for which they have invented the genre "sound comic": Just as in comics word and image merge, here it is the spoken word and sound. Anti-heroines are the protagonists here. Their surreal to psychedelic journeys lead through a dense fabric spun from compact sound images. The artists eclectically combine literary and musical styles and make them their own in the finely woven composition. The sound comic appears both as a ready-to-broadcast audio piece for radios, as a sound carrier in a unique design and as a constantly growing live performance.
Tintin Patrone
Tintin Patrone – trombone, electronics
Tintin Patrone creates sustained, distorted or eerie sounds by running her instrument through a series of low-latency, modified and/or minimally oscillating digital filters. Her playing patterns allow for the creation of large, robust drones that are mimicked, distorted or recombined to form longer and more varied textures and structures.
Tickets: 9 €
Tickets available in online presale or at the box office.
Since 15.11.2021, the 2G rules apply at events in Berlin. In addition to 2G, masks are also compulsory in our room. As the corona infection figures are currently very high, we would like to ask you to undertake a corona test in a test centre before attending our events.
Supported by Senatsverwaltung für Kultur und Europa
Presented by Digital in Berlin
doors: 8.30 pm
concert starts: 9.00 pm
supported by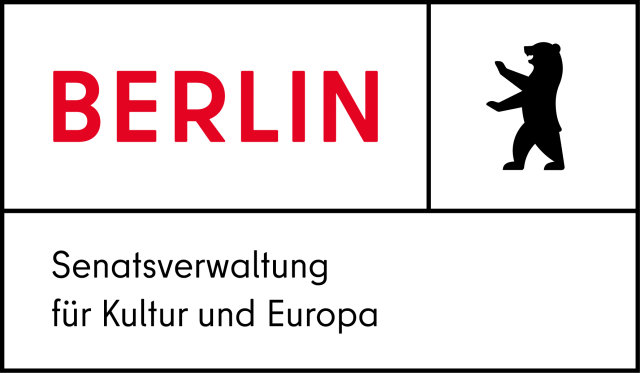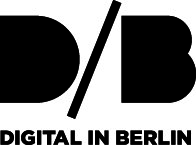 As part of the series biegungen im ausland