Friday, 10 March, 2023 - 20:00
Konzert: Das Behälter
Doors 20 Uhr | Start 21 Uhr
VVK € 12,- (zzgl. Geb.) @ KoKa36 & goout.netAK € 15,-
Event @ facebook
DAS BEHÄLTER dasbehaelter.de
Album Star of the Future (Vö: 3.2.23. Fun in the Church).
funinthechurch.bandcamp.com/album/star-of-the-future
Xenia Ende - Vocals xeniaende.com
Julius Gabriel - Saxophone juliusgabriel.com
Achim Zepezauer - electronics
Gabor Bodolay - bass guitar
Karl F. Degenhardt - drums & sensory percussion
FABÍOLA www.fabsasmr.com
POPON (DJ) popon.bandcamp.com
"Das Behälter ist eine Band die in ihrem Inneren einen Hohlraum aufweist. Wenn die Musik beginnt füllt dieser sich mit der Weisheit von Jahrtausenden, der Liebe der Heiligen und dem anarchistischen, exzessiven Groove der Schizo Disco."
Das Behälter melden sich nach ihrem 2015er Debütalbum The World Is All That Is The Case, mit ihrem zweiten Album Star of the Future über Fun in the Church zurück.
Das Behälter ist eine Agit-Disco-Jazz-Gruppe um die transfeministische Texterin/Performerin Xenia Ende und den Saxophonisten Julius Gabriel. Zusammen mit Gabor Bodolay am Bass, Karl-F. Degenhardt am Schlagzeug und Achim Zepezauer am Tischlein. Elektrisch kreieren sie einen nonkonformistischen Sound, der sich durchzogen von existenziellen Sprachströmen aus gekonnten und kaputten Beats, agilem Sampling, skurrilen Ambient-Sphären, ekstatischen Klangexplosionen, fiesen Blaszaubereien und bizarren Vokalhöhenflügen zusammensetzt.
Die Performancekünstlerin Fabíola aka Sister Clara aus Portugal, derzeit in Berlin lebend, ist ASMR- und Space Nun. Eine Show zwischen Soap Opera, Noise, Minimal, Dreamcore, Spoken Word, Hardcore und Pop.
popon is an improvisation sound artist from Japan, now based in Berlin. Her career began as a singer in a punk band and she is influenced by Japanese 80's DIY punk sounds, children's music and Bristol sounds. Nowadays she uses a variety of electronic devices, DIY music instruments and several voices to create improvised jams of overdriven texture.

BERLINTOUCH II - gefördert durch die Musicboard Berlin GmbH.
supported by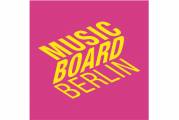 As part of the series amSTARt